Benicia Sculptor Turns Scrap Into Totems
Marques Vickers has noticed that artists can be some of the most resourceful people you'll find. The Benicia sculptor himself has taken advantage of a pile of used Douglas fir pillars a worker left near his studio to build a series of iconic totems.

"It's recycling at its utmost. That's the thing with found objects, "Vickers says. "Fir is one of the harder woods to carve, but you start with what you get."

Vickers, who draws inspiration from totems made by tribes in the Pacific Northwest, is also influenced by sculptors such as Constantin Brancusi, who worked with totemic iconography. But Vickers' use of found materials distinguishes his work.

For one thing, Vickers created "Angel of Ill-Repute" (pictured right, 70 inches tall, $3,500)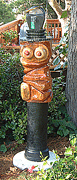 after realizing that some of the objects he salvaged from an Oakland construction site added up to a parking meter. His studio also happens to be next to the Tosco refinery, where he picks up pipe scraps.

Vickers also creates tabletop steel statues (2 1/2 to 3 feet tall) and fountains. The iconic totems (4 to 10 feet tall) are sealed with Dupont IMROM resin, so they work as indoor or outdoor pieces.

Marques Vickers pieces range from $1,000 to $3,000. Three works are on display at the Vorpal Gallery, 393 Grove Street (between Franklin and Gough streets), San Francisco, (415) 397-9200, or you can contact Vickers at (707) 748-1213 for a studio appointment, or visit www.marquesv.com.

December 29th San Francisco Chronicle Home Section

Vorpal Gallery To Showcase Vickers Iconic Totems
Benicia sculptor and painter Mark Vickers will be one of the featured artists in an upcoming "Visions 2000" exhibition, September 2-October 2, 1999 at the renowned Vorpal Gallery in San Francisco. Three of his Iconic Totem assemblages, "Modern Amazon", "Angel of Ill-Repute" and "The Viagra Resurrection" will be included in the show focusing on nine additional San Francisco Bay Area artists of distinction. Vickers is also currently exhibiting at the Mark West Winery in Healdsburg and in a designer showcase of recyclized art in South San Francisco.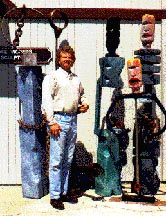 As a sculptor and painter, Vickers, 41, specializes in steel and mixed media sculpture with a smirk of humor, incorporating found finished objects and multicolored patina and painted surfaces. As a painter, his work is concentrated on figurative and abstract expressionism with textured surface backgrounds. The focus of his work remains barbed humor laced with subtle irony and vulnerability, reminiscent of two other Benicia sculptural influences, Robert Arneson and Manuel Neri.

The Vorpal Gallery, now in its 37th year, represents artists from over 30 countries in a series of rotating exhibitions. Internationally acclaimed for its collection of contemporary and modern Masters such as Dutch graphic master M.C. Escher, the Gallery is located at 393 Grove Street in San Francisco's Civic Center area with a second location in the SoHo area in New York City. With over 20,000 square feet of exhibition space, the gallery is open Tuesday-Saturday from 11:00 AM to 6:00 PM.

Businessman Finds New Path To Success As Sculptor
Question: What do you get when you cross a travel agent with a welder? Answer: a sculptor with a great package--like Benicia artist Mark Vickers.

Vickers, a Vallejo native and St. Patrick-St. Vincent High School grad, lived in France, traveled the world and started his own travel agency. He was executive director of the Burbank Chamber of Commerce before eventually returning to his North Bay roots to become--a welder.

The circuitous route to welding came from three years ago, after Vickers saw two large public art objects on display in Sweden.

"I was traveling in Russia and Scandinavia," Vickers explained. "I was very piqued by the public art in Stockholm. It became one of those things I felt I could do and would do."

But Vickers, with a history in business, did not know how to make sculptures so he signed up for a welding class at Solano College. Soon, the sparks were flying.

"Basically it was all trial and error," he said. "Most people are spectators when it comes to acting out their dreams but I am more pragmatic than that. I didn't even finish the welding class but I

learned the basic mechanics of welding."

That was all he needed to locate a welding unit and start building "assemblages." Vickers, who uses sheer will to achieve his goals, likes to explode common myths about art and artists.

"One myth is that you are born as an artist," he said. "Not so. You have to work out your styles and make a thousand mistakes before something works anesthetically."

Although his father was, indeed, an artist, Vickers claims to have inherited none of his dad's artistic talent.

"Frankly, I don't think any of it genetically transferred," Vickers said. "It was not my particular gift. If you look at our work, you'd hardly know we were from the same genes." Thanks to a pragmatic business sense, Vickers said he already had money to bankroll himself as a sculptor "instead playing the role of a starving artist."

"Even so, you don't sell work right away," he said. "It's not a guaranteed source of income. Something like one percent of artists live off their work."

Vickers has been busy in those three years since Stockholm. He's taken up painting, too. He said his paintings are influenced by artists like Mark Rothko and abstract impressionists of the 1950's.

During the day, he creates his assemblages at a Benicia Industrial Park studio with a view of the mothball fleet. Later, he dons his marketing cap and begins making those essential calls to hawk his wares.

"Another myth about art, and why a lot of artists stay undiscovered, is that it's a business and you have to invest your time into selling," Vickers explained. "Most artists are not clued into that. I make 20 to 30 calls a day-to interior decorators, galleries and wineries."

Tenacity does seem to pay off. Vickers recently landed a one-man show of his "Iconic Totems" at the Mark West Winery in Forestville.

"If you build a better mousetrap, you've got to make them aware of it," he said. "This show was part of extensive follow-up and finally securing the venue."

Another Vickerism on art is that gallery owners actually sell artists' work. Don't count on it. "Artists rely on galleries to market their work but gallery owners are just retailers," Vickers said. "There are good and mediocre ones. Most gallery owners are mediocre. They aren't making those 20 to 30 phone calls a day and the artists can't understand why they don't sell. You must stimulate demand."

It all boils down to obsession, he said. Real artists have it and are driven to do it --whatever it is.

Vickers works on several pieces at once, creating assemblages out of discarded car parts, wood and paint -- whatever tickles his fancy. He then seals the entire piece in a DuPont clear coat resin, making the sculpture available for outdoor or indoor use.

Still new to the art scene, Vickers is nonetheless in it for the long haul, building his artist resume from art exhibits throughout the country. He still runs a tour company and operates a screen-printing business to help bankroll his art.

Yet, even with his savvy business sense, there's still an element that will forever stay out of his control.

"The thing about fortune and success in a creative enterprise is that it often comes as a fluke," he said. "It's timing, really, and you can chase the idea of making it via those shows, but more often than not when people do see your work, it's when you least expect it."

Vickers' Iconic totems will be on display throughout the summer and fall season. Mark West Winery is located at 7010 Trenton-Healdsburg Rd. in Forestville.

Local Artist Makes Up For Lost Time
Native Vallejoan Mark Vickers, 41, didn't start out being an artist.

Yet in the two short years during since he turned his attention to art, he has made some remarkable strides.

His sculpture was acknowledged in the September issue of the nationally distributed interior design trade publication, Interiors and Sources Magazine, and two of his pieces-one sculpture and one painting-are part of the Arts Benicia Exhibit in the Arsenal Building beginning this weekend and running for about a month.

Having come from more of a business than "a traditional art background, per se," Vickers,

who runs two other companies and teaches business, finance, marketing and law in addition to his artistic endeavors, was visiting Stockholm, St. Petersburg and Helsinki two years ago, when he discovered that he "was drawn to the steel construction and sculpture." Upon his return, he decided to try his hand at it, and enjoyed it.

"What I was doing well received," Vickers said. "I began to refine my technique and devote more and more time to it. It has become a great passion."

Opening his own studio in Benicia in June of this year, Vickers specializes "primarily in abstract, figurative sculpture made of steel and mixed media, incorporating found finished objects and multicolored patina surfaces, covering various themes."

He works with decorators to "create a certain look" for commercial or residential interiors or contracts to create larger, outdoor pieces for gardens or public places.

While more artists specialize in one medium or another, for example, "most painters don't cross over into sculpting and vice versa," Vickers does both. "I find both equally valuable mediums," he said.

Vickers' ultimate objective is to have his work exhibited in galleries all over the world.

"I would like to be one of the art icons of the new millennium," he said half jokingly, "But there is a long line there. But if you have something to say, and I do, then why not."

In the mean while, Vickers is searching for his own "signature style," and believes that the new series he's working on; a mixed media assemblage sculpture using steel and wood, may wind up being just the thing.

As with most artists, Vickers said his work is "always evolving", and it's progress is available for review by members of the design trade industry, set designers and collectors by appointment, in his studio in the California Industrial Complex, 3840 Industrial Way, Suite B in Benicia.

"The work often speaks more eloquently than anything I can say, "Vickers said.

Selling Artwork on the Internet Publication Released
A timely e-publication entitled "Selling Art On The Internet" was released by the Marquis Publishing Company (ISBN #0-9706530-0-X) this week targeted towards the visual arts community. Authored by California artist Marques Vickers, the e-book addresses relevant topics including website design, generating website traffic, cultivating media exposure, "paying for clicks" , merchant affiliate programs, self publishing artwork, virtual and portfolio galleries and art auction sites.

The 58 page publication is oriented towards the independent visual artist and small art galleries representing a diversity of mediums. "As selling on the Internet becomes a more accepted distribution outlet for artwork,"

notes author Marques Vickers, "a new sense of empowerment is evolving for visual artists in their relationships with galleries, clients and the traditional institutional elements of the art world."

Formats for the e-publication distributed on compact disc are available in Microsoft Word, Adobe Portable File Document, Appleworks and ASCII text software. The published retail price is $10.95 USD, $14 CAN and £8 UK. Copies can be ordered directly through the Marquis Publications website at www.ArtsInAmerica.com and through a growing number of Internet e-publication retail publication distribution sites.

"The whole process of Internet exposure and direct sales for visual artists' is an infant industry that has lagged behind other retail segments," observes Vickers. "Substantial opportunities exist for Internet savvy artists and galleries. However, for most segments of the artistic community, the process of establishing an initial presence in cyberspace is confounding as there exist few proven guidelines for navigation. The Internet will permanently and ultimately alter the channels in which visual art is distributed and sold, but the restructuring process will be transitional and not immediate. Unrealistic expectations and an impatience for financially profitable business models will doom many of the initial art oriented e-commerce commercial sites, but opportunity has never been more prolific for entrepreneurial artists."

Vickers, who is conducting a series of San Francisco based seminars for visual artists in conjunction with the US Small Business Administration, currently markets his own Figurative paintings and sculptures on over 30+ Internet auction, B2C, B2B and business exchange sites. He was recently selected as one of twenty international artists to exhibit at the MAC 21 International Contemporary Art Fair in Marbella, Spain, July 19-24, 2000 (www.mac21.com). The annual fair is the largest showcase of contemporary international artwork in Spain featuring some of Europe's most renowned galleries and art organizations. He was also selected as one of two Americans for the European Art Channel EXPOART 2000 exhibition based in Cologne, Germany (www.eurochannel.de). He is finalizing plans to initiate a January 2001 launch of an art industry monthly ezine to develop a further dialogue on marketing visual art in cyberspace.

Two Big Sales For Local Artist Vickers

Two sculptures by local artist, Marques Vickers, have been purchased by the Small Business Administration, and Cisco Systems of the new Entrepreneur Center in San Jose.

"They were interested in a steel piece they had seen at Marquis Gallery, and called to find out about it," Vickers said.

The Marquis Gallery is Vickers' virtual gallery on the web, displaying and marketing his work and that of Wayne Kohler.

After he learned more about the clients, the purpose and environment where the art would be placed, he convinced the buyers to make a different selection from his series of large, multi-media sculptures.



Vickers does not fill the artist stereotype. Although his father was an artist, and art teacher, "I wasn't interested in it when I was young. I was exposed to art, but it must have been at a subconscious level," he said.

Business interested him more. At age 24 Vickers was hired as Executive Director of the Burbank Chamber of Commerce and later started several businesses of his own, including Marquis Tours, and is releasing an e-book called "Selling Art On The Internet", in November.

On a trip to Scandinavia in 1996, his journey into the art world began. "As I traveled through Finland, I was impressed with the art, especially the metal and wood pieces. I thought, I could do this." Marques said.

He returned home to take a welding class taught by David Nourot (brother of Master Glassblower Michael Nourot of Benicia) at Solano Community College.

"I didn't even finish the class. As soon as I learned the basic elements of the craft, I began to work on the pieces that came to mind," he said. His sculptural work, designed to be displayed indoors, or out, is generally made of wood and steel, with a color infusion of acrylic blended with resin. But in some works, he uses plaster and other materials.

"It became an obsession in a way," Vickers said, "and I was fortunate enough to gain some recognition right away."

His work was chosen to be exhibited at the MAC21 International Contemporary Art Fair in Marbella, Spain and at the European Art Channel EXPOART 2000 and exhibition.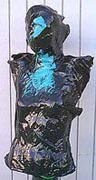 "Selling art is like an affirmation of what you've done," he said, "And a confirmation that it is bigger than you (oneself)."

"I'm actually doing more painting than sculpting now, but I work on a number of works at once, " Vickers said.

One of his early themes was Totems. "More Spirit Than Flesh", is the "Iconic Totem assemblage" that was chosen for the Entrepreneur Center.

The Center is built in the bottom two floors of a bank building. It is a one stop shopping for small business owners, or entrepreneurs who want to start a business," Lauren Cooney, Entrepreneur Center Outreach Coordinator said.

"Founded cooperatively by the SBA, and Cisco Systems, the San JOse center is the first technology oriented small business center in the country," Darlene McKennon, spokesperson said.

Designers make a conscious effort to humanize the environment by replicating the mercantile atmosphere of a "Main Street USA" in the foyer," Vickers said.

The Small Business Development Center, Service Corps of Retired Executives (SCORE), Small Business Agency, and Center for International Trade Development, and Management Training Office are among the services housed in small "shops" off of the lobby.

Vickers' human torsos and totem art bring a humanistic touch to a setting where about 12 Cisco Systems flat screened monitors and computer/Internet work stations are displayed.

"Introspection and reflection are an important part of being successful in business," Vickers said, "In the computer environment of hyperspeed, the use of neutrals like black with blue accents and the teal face, has a calming effect."

"The Totem is full of symbolism," Vickers said, "Totems, were originated by Indian tribes of the Pacific Northwest, and are humanistic symbols."

It is something which rises vertically, converting spirituality...it makes the spirit world more concrete," he said, "and the blue tones connote serenity."

The practice of Feng Shui has captured Vickers' imagination. He created a series of sculptures in the nine themes of the Bagua Map. A female torso entitled, "Career" is 8th on the map he said. it was also chosen for the Center.

His latest interest is dance movements, and Vickers is working with Gloria Ferrer (Spanish Champagne lines) with Spanish dancers.

|Vickers Honored at International Art Fair

Benicia, California artist Marques Vickers was recently selected as one of twenty international artists to have his paintings digitally printed out for exhibition at the MAC 21 International Contemporary Art Fair in Marbella, Spain, July 19-24, 2000. The annual fair is the largest showcase of contemporary international artwork in Spain featuring some of Europe's most renowned galleries and art organizations.


Vicker's selected images were drawn from his recent Millennium selection of "Women in Abandon" series featuring transitional dance movements. Vickers' work has evolved towards a liberated expression of Figurative abstraction. Drawing compositional inspiration from European abstractionists Concha Benedito and Luciano Castelli, Vickers' female forms capture expansive dance positions representing transitional passages of movement. The fluidity of these transitions are reflected in the variating color combinations, textured surfaces and sweeping brushstroke techniques. The works are also available as limited Giclee editions of 100, signed and numbered by the artist.

A native of Vallejo, Vickers, 42 is a 1979 graduate of Azusa Pacific University and has completed post-graduate work in Dijon, France. He is a member of the International Sculptural Center organization in Washington DC and the Pacific Rim Sculptors Group based in San Francisco. Vickers has been represented in the San Francisco Bay Area by the highly regarded Vorpal Gallery in San Francisco. He has shown his artwork extensively throughout the San Francisco Bay Area including recent exhibitions at the Gloria Ferrer and Mark West Wineries and various points eastward.

His work has been profiled nationally in Art Business News, Interiors and Sources, Diablo and Left Coast Art magazines. Regionally, he has been profiled in the San Francisco Chronicle, Contra Costa Times, Napa Valley Register, Vallejo Times Herald, Benicia Herald and by the ABC, NBC, CBS and FOX affiliate television stations. His work is part of the corporate collections of the Phoenix Rehabilitation Programs, Inc. of Concord, California, United States Consulate in Warsaw, Poland, The Farrington Design Group of Atlanta, Georgia, RPD Properties of Century City, California, Graphic Ambitions of San Antonio, Texas and the New England Christian Media Ministries.

Mentions:
Interior and Sources Magazine (September 1998 Issue)
Various Publications: "Visual Artist Lauches Website As An Alternative To Traditional Art Gallery Distribution" (December 1999)
Various Publications "Corporate Buyer Snail and E-Mail Lists Available to Individual Artists and Galleries" (October 1999)
Various Publications: "Vickers Introduces Iconic Totem Sculptures" (July 1999)